Imagine having your night's rest cut short by a gruesome thirst or hunger, and you just have to fetch something from your fridge. On switching the kitchen's lights on, you discover an army of roaches fleeing for cover in every direction. The very thought of having to share your kitchen with this filthy crawlies is so disgusting that your appetite goes away.
Such fores which are known to survive for up to two weeks headless truly need unique ways of dealing with them. Not to worry, in this post, I shall be introducing plants that repel roaches. With the adoption of plants that keep roaches away, you will eventually reduce the use of those aerosols and other insecticides.
Why You Should Never Take Roaches Light.
Roaches have with the millions of bacterium which adhere to their exoskeletons. Where do they get theses from? Well, I am sure you have noticed a couple of them feasting on your kitchen waste disposed of in a rubbish bin. Rotting kitchen waste makes rubbish bins a the ideal environment for the bacterium to multiply.
Since roaches love dark places, a lot of them also end up in your manholes! They know how to sneak themselves into the holes despite the presence of only a tiny space to let them in. Bacteria like stefflecocai, which cause severe stomach complications when it founds its way on to your food, is just one of many. Thus whatever you do, never intentionally pick or smash roaches with your bare hands.
Thoroughly wash your hands with soap or some sanitizer if you get your hands in contact with them. Roaches pose a significant threat to your electronic devices. Roach waste, which ends up on to your internal computer hard drive, can be damaging to it. Remember, this artificial brain is sensitive to the slightest of movements; non-contact forces like static electricity is enough to erase what has been written on it.
How to Rid Your Garden of Cockroaches with plants?
1. Chrysanthemums
They say "looks can be deceiving"; this is the case with chrysanthemums. Just by observing its colorful purple flowers, you would start admiring it, not knowing it is very potent to roaches. Any crawly that gets in contact with this plant is sure to kick the bucket. The plant can be placed anywhere around your house.
It's the ability to purify indoor air coupled with the ability to kill other bugs like ants and ticks, is a good reason for you to get it. Grinding the leaves and flowers with mortar and pestle will also make an effective roach repellent for placement in those out of reach areas.
2. Mint
With this plant, you can prepare a DIY roach repellent. Studies show that it is toxic to at least two roaches species, namely (the American cockroach) and (the German cockroach). All you need to do is pick a couple of mint leaves, with their number determining the quantity of roach repellent you can make. The next thing is to boil these till you notice a green solution with a minty aroma.
You will have to wait for it to cool before pouring it into a container with a spray/atomizing mechanism and voila! you have yourself a repellent. Roaches love to hide in cool, dark places that are out of reach. Try spraying our solution in the following areas:
Under appliances, e.g., ovens.
In cracks where roaches may use to access your house.
In corners of rooms.
In kitchen cabinets.
Where food is stored.
You are probably wondering if it is safe having to spray the solution where food is stored. Rest assured, mint repellent keeps the doctor away!
3. Rosemary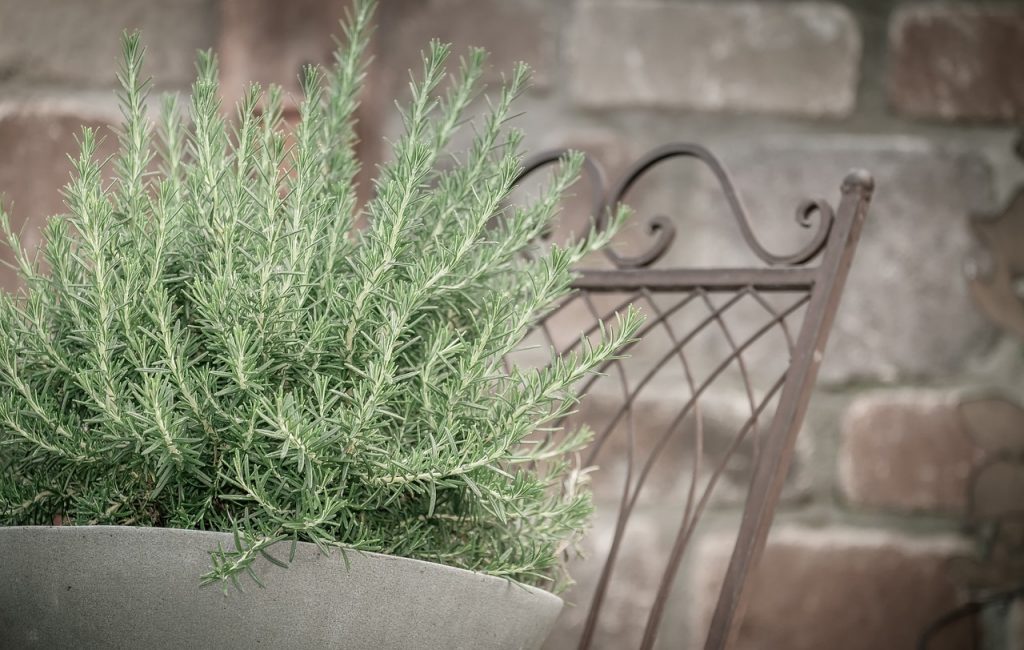 The herb rosemary is one of the plants that repel cockroaches—simply placing pieces of the leaves and flowers does the trick. Preferably cut the fresh rosemary sprigs into 2 to 3 inches long pieces. With many online market places such as Amazon and rosemary's abundance, you can quickly order the seeds and have them delivered right where you stay.
4. Garlic
Garlic is rich in essential oils and some complex Sulphur compounds. If the garlic were to be the cat, then roaches would have been mice; they really cannot stand the herb. You got three options for preparing and using garlic-based roach deterrents. The first option being to crush the garlic clovers with a mortar and pestle, then add warm water to this, lastly spraying the repellent after shaking well.
The second option excludes the mixing of crushed clovers with water by having them placed within the vicinity where roaches "hangout." The last chance has to do with drying up the ground garlic to a fine powder that can be sprinkled all over your house. However, you probably would not want your house smelling all over like garlic. Therefore you can try out garlic with other alternatives that are not as repulsive to you.
5. Lavender
This herbal plant is the source of lavender oil. Apart from its famous relaxation and stress-reducing properties, user reports confirm it works well in deterring roaches. The exact process of extracting the oil might be too far fetched for you unless you are that die-hard DIY fellow. Using a spray prepared by grinding of leaves and flowers using pestle and mortar will work as a good alternative.
6. Catnip
This option is not well suited for the reader who has cats as pets, due to the herb's pleasant effect on them. Nepetalactone, an active ingredient found in the plant, is a strong repellent of roaches. However, cats love it because its chemical composition is similar to the cat's pheromones. You will often find them licking it and rolling in it; thus, its removal in those places you would have placed it for the roaches.
7. Pandan Leaves
They are quite popular ingredients in some of the Asian unique dishes. However, not much can be said about their repellent properties as they are not that good. Of course, the roaches would want to avoid the fragranced leaves, but they are still not potent. Thus it is not much of a good idea using it as a standalone repellent. Instead, use it in conjunction with other plant-based repellents.
8. Cypress
Synonymous with Christmas time and is dubbed "The Christmas tree" by many. If you have picked a leaf or two, rubbed it between your fingers, then you have an idea of the aroma that will be filling the air. It is this scent that tends to keep the roaches away.
Cypress oils are the compounds which produce it, to be exact—performing the same extraction method using a mortar pestle and warm water works well in activating the oils needed for repelling away the uninvited squatters.
9. Bay Leaves
These contain compounds such as eucalyptol, which are known to repel most bugs. Place fresh bay leaves around your kitchen, especially behind appliances, near entry points, and any other inaccessible dark areas.
Advantages of Using Plants That Repel Roaches
● Plant Repellents Are Not As Toxic
Unlike our traditional synthetic repellents, plants that keep roaches away are not lethal to our kind. Most insecticides come with different warning signs such as the green triangle, which promotes use with caution. Thus better be careful when spraying those roaches so that droplets will not end up in your food. Avoid an unplanned trip to the doctor!
● Plant Repellents Are Environmental Friendly
Even though several manufacturers have covered significant ground in reducing chlorofluorocarbons from their products, the fact remains that some leftover components are not ozone friendly. However, by going green and adopting the plant-based repellents' use, you would have done mother nature proud. That is one of best ways to kill roaches & keep environment green.
● Synthetic Repellents Can Be Pricy
Unfortunately, not all of us got pockets that run deep. Sometimes you will need rare pricy sprays to deal with your roach problem; this can be pricy. Roaches are like mutants; with time, they tend to develop high tolerance levels to some synthetic repellents.
You would thus need to keep on rotating different kinds of insecticides with other active ingredients. Plant repellents are an affordable alternative by far, and roaches do not quickly develop a good liking tolerance for them.
● Allergies
Ouch! Sounds familiar? Let's face it, though synthetic repellents can be quite effective; there is usually a catch to it. One such being the awakening of the usually dormant allergy monster. Sprays are the big culprits due to suspended yet invisible droplets left hanging in the air.
I am not strickly saying that plants do not come with allergic reactions. However, theirs is not that prevalent and is usually triggered by pollen grains. The trick is simply not to use the flower part.
How To Keep Cockroaches away Finally
Now that you have learned a thing or two about plants that repel cockroaches, it is good to put everything to the test. However, I should warn you that some instances call for a combination of repellents to deal with those filthy creatures. A roach infestation is one such example. Here you will need a well-equipped arsenal because this is pest war! The use of synthetics simultaneously with plant-based repellents is superior in this case.