Bell-shaped flowers will make a great addition to your flower garden. Bell-shaped flowers stand out as the best because of their bell shapes, sizes, and beautiful colors. The reason why they are called bell-shaped flowers is that they have a tube and flared petal tips that have a way like a bell. Bell's shaped flower does not refer to one type, but instead, it refers to a wide variety of bell-shaped flowers. If you are looking for flowers to beautify your home or garden, you should consider bell-shaped flowers.
There are quite lovely flowers that commonly bloom into beautiful colors like blue, white, purple, and pink. In most cases, those flowers are used as ornamental flowers in the garden. Bell-shaped bulbs do not require a lot of maintenance; they do well in moist soil and areas with sunlight. There is a way over 100 different types of bell-shaped flowers. Here is a list of some of the beautiful bell-shaped flowers you should consider growing in your garden;
Different types of bell-shaped flowers
1) Bellflower [Campanula]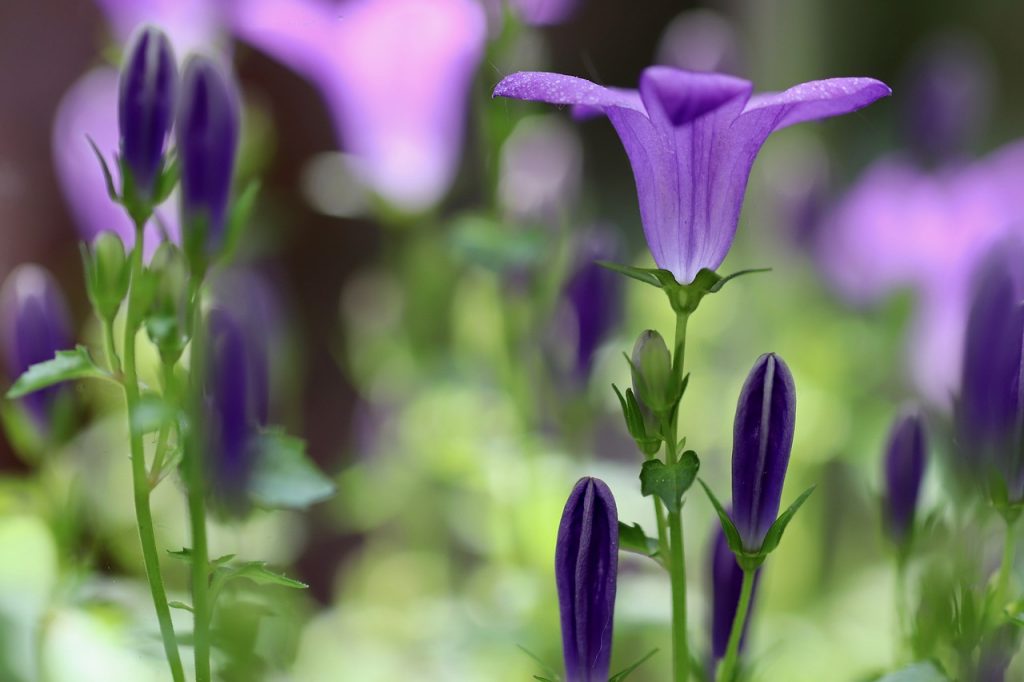 Bellflowers have way over 300 different types. Some are small groundcovers, while others are tall plants. The bellflower can be perennial, biennials, and annuals flowers; you can grow them for many years. They bloom into beautiful flowers with different colors like blue, lavender, white, and pink.
Bellflowers are easy to grow, from the seed and some from the rhizomes. For them to become very well, they require an area with well-drained soil. It is also essential that you water them a few times a week. They thrive in areas with cold summer temperatures as they prefer full sunlight. They grow in two different ways. Some grow straight upright, and some form a mound.
2) Angel's Trumpet [Brugmansia]
Angel's trumpets are bell-shaped flowers that come in multiple beautiful colors. The reason why they are called 'angel's trumpet' is simply because of their large pendulous flowers. If you are looking for plants that flowers all year round, these will make an excellent choice. They bloom into a variety of colors such as yellow, white, orange, pink, red, and green. Moreover, they have a lovely fragrance. However, the red ones have no scent at all.
They thrive in an area with well-drained soil, a lot of sunlight, and a bit of afternoon shade. Since they grow fast, you have to add fertilizer to sustain their growth. They have to get water regularly. However, on the downside, as lovely as there are, these flowers are quite poisonous. You have to make sure that they are out of reach of children's reach.
3) Lily of the valley [convallaria majalis]
It is a unique, beautiful delicate bell-shaped flower. It has many names like ladder-to-heaven, May Bells, Mary's Tears, and Our Lady's Tear, amongst other names. It is Mary's Tears or Our Lady's Tears simply because people believe that, during Jesus' crucifixion, when Mary cried, the lily of the valley sprouted. In late spring, the flowering stems display at least 5 to 15 beautiful scented bell-shaped flowers. There are usually white, but there are also some with lovely pink varieties. After flowering, they turn into red-colored berries.
It is a perennial flower that grows from rhizomes. To provide them with a cold dormant period, you have to plant them in late fall. There will start blooming in spring and early spring. They thrive in moist soil and require an area with partial shade.
4) Foxglove [Digitalis purpurea]
It is also known as the witch's gloves, fairy bells, scotch mercury, etc. Foxglove flowers have a variety of gorgeous colors like yellow, purple, white, and variations of pink. It is a biennial flowering plant, and after two years, this plant completes its life cycle. During colder months, it enters a stage of dormancy.
They thrive in an area with full shade or partial-shade as too much direct sunlight can kill them. Foxglove requires deep watering at least once a week. Foxgloves require low maintenance; they self-seed themselves.
5) Swamp Doghobble [Eurotrys racemosa]
It is also known as fetter-bush or sweet-bells leucite. As the name depicts, these flowers grow in wetlands. It thrives in moist places like swamps and shady areas in the woodlands. It's a shrub; you have to build it in partially shaded areas. Despite the name, these flowers bloom into beautiful, sweet-scented white-shaped flowers.
However, this flower can cause some allergic reaction. It's strongly recommended that you shouldn't be in contact with this flower if you are allergic to flowers. Moreover, it is very poisonous to animals too.
6) Fuchsia
Fuchsia is shaped like a bell with extra petals above the sound. They are quite attractive and bloom into multiple different colors. It can also grow as a shrub; it can make a pretty border along with your garden or even your driveway. Fuchsia is an annual; it can survive through winter. For it to grow well, it needs soil that is rich in nutrients and soil that retains moisture. It can be built in a variety of ways, but they grow well when they put in baskets. To prolong the flowering period, you can add fertilizers and regularly cut them off. However, they are quite poisonous for pets.
7) Bluebells [Hyacinthoides-nonscripta]
It's a sweet-scented bell-shaped flower. The flowers bloom to a variety of colors like pink, white, and blue. The fresh scent attracts honeybees, bumblebees, and butterflies to help fertilize your garden. It's a perennial flower; you can grow this plant all year round. There is a beautiful sight, especially in summer, as they gracefully sway to the breeze.
Bluebells thrive in moist soils. To help them bloom faster and survive longer, you can add some organic matter. There are frost tolerant flowers; fall is the ideal time to plant them. You can grow them in the ground or containers. However, caution needs to be taken as they are very poisonous; make sure children or pets don't ingest them.
*NB please take caution when planting these flowers as they are quite poisonous. Make sure they are out of children's and pests' reach. Use gloves when handling these flowers. However, if you are allergic to plants, l highly recommend you don't use the Swamp Doghobble as it causes allergic reactions.
To wrap up
In conclusion, bell-shaped flowers are gorgeous flowers. There are so many different kinds of bell-shaped flowers. Not only do they beautify your garden, but they also have a sweet fragrance that smells amazing. They are ideal for beginners as they don't require much maintenance. However, beautiful as there are, these flowers are poisonous, extreme caution has to be taken.