One reason your potatoes may be small is because of the variety you planted. Some potato varieties are simply bred to produce smaller tubers. Another possibility is that your soil is too sandy.
Soil that is too sandy doesn't hold nutrients well, so plants can't access them and grow to their full potential. If your soil is too sandy, you can try adding organic matter like compost to help it retain moisture and nutrients better. If you're harvesting early in the season, your potatoes may not have had enough time to fully mature yet.
Give them a few more weeks before digging them up to see if they've grown any larger.
There are a few reasons why your potatoes might be small. One possibility is that they were planted too early in the season and didn't have enough time to grow. Another possibility is that they were planted in soil that was too dry or had too much shade, which can also impede growth.
Finally, some potato varieties simply mature into smaller sizes than others. If you're wondering why your potatoes are small, it's worth checking to see if they were planted under ideal conditions. If not, there's not much you can do about it now except wait and see how they turn out next season.
In the meantime, enjoy those little spuds!
Growing Potatoes – Mistakes to Avoid
What Affects Potato Size?
When it comes to potatoes, size really does matter – at least when you're trying to grow them. Whether you're planting in your home garden or on a larger scale, the size of your potato crop can be affected by several factors. Here's a look at some of the things that affect potato size:
1. Soil Conditions
One of the most important things for healthy potato growth is rich, well-drained soil. If your soil is too sandy or too clay-like, it can impede root growth and lead to smaller potatoes. For best results, amend your soil with organic matter like compost before planting.
2. Fertilizer
Giving your potatoes a nutrient-rich start will help them grow to their full potential. Use a balanced fertilizer (like 10-10-10) and apply it according to package directions before planting. Be careful not to overdo it – too much fertilizer can actually burn the plants and reduce yields.
3. Watering Practices
Potatoes need about 1 inch of water per week, either from rainfall or irrigation. Too little water will cause the plants to wilt and produce small tubers, while too much water can lead to cracking and rot. Maintain consistent moisture levels throughout the growing season for best results.
4. Planting
Depth & Spacing Another important factor in potato size is how deep and how far apart they are planted. Tubers should be planted 4-6 inches deep and spaced 12-18 inches apart in rows that are 3 feet apart.
If they're planted any shallower than 4 inches , they may be susceptible to frost damage; any deeper than 6 inches , and they may not receive enough light, which leads to long, stringy roots instead of plump tubers .
5. Variety Selection
Finally, the type of potato you choose will also impact its size . Some varieties simply mature into larger tubers than others . One thing to keep in mind is that early season varieties tend to produce smaller potatoes than late season varieties . So if you're looking for big spuds , plant a later maturing variety like Yukon Gold or Russet Burbank.
How Do You Increase the Size of Potatoes?
There are a number of ways to increase the size of potatoes. One method is to plant them in soil that has been enriched with compost or manure. Another way to encourage larger potato tubers is to hill up the soil around the plants as they grow.
This can be done by mounding soil around the base of the plant, being careful not to damage the stem or leaves. Once the potatoes have reached a good size, you can also try separating them and replanting them farther apart so that each individual tuber has more room to grow. With proper care and attention, it is possible to produce larger potatoes than what you would typically find in stores or at your local farmers market.
How Long Does It Take for a Potato to Grow to Full Size?
It takes about 2-4 months for a potato to grow to full size. This time frame can be affected by the type of potato, growing conditions and whether or not the potato is started from seed potatoes (pieces of whole potatoes that are planted and will sprout new plants) or from cuttings (tubers that have been cut into small pieces and each piece has at least one "eye" or bud). Under ideal conditions, potatoes will mature more quickly.
For example, if the weather is warm and sunny with regular rainfall, then the potatoes will likely mature faster than if the weather was cooler and drier. The type of potato also affects how long it takes to mature. Some varieties of potatoes mature more quickly than others.
For instance, early varieties like "Irish Cobbler" can take as little as 60 days to reach full size while late varieties like "Russet Burbank" can take up to 120 days. If you're starting with seed potatoes, you'll need to factor in an additional 4-6 weeks for them to sprout before they can be planted. Cuttings generally take a bit longer to produce full-sized potatoes than seed potatoes since they have less energy reserves.
However, both methods will result in delicious homegrown potatoes that are well worth the wait!
What Can I Do With Tiny Potatoes from Harvest?
With the potato harvest in full swing, you may be wondering what to do with all those tiny potatoes. While they may be small, there are plenty of ways to use them up. Here are a few ideas:
Roasted Tiny Potatoes: Cut the potatoes into bite-sized pieces and toss with olive oil and your favorite herbs or spices. Then roast in a 400 degree oven for 20-25 minutes until crispy on the outside and tender on the inside.
Tiny Potato Salad: This is a great way to use up any leftover tiny potatoes. Simply boiled or roasted potatoes and then add them to your favorite salad recipe. You could also add some chopped bacon or crumbled cheese for extra flavor.
Tiny Potato Soup: A warm and comforting soup is always welcome during the cooler months. And this one is super easy to make! Simply simmer boiled or roasted tiny potatoes in chicken or vegetable stock until tender. Then puree the soup until smooth and season to taste with salt, pepper, and other herbs or spices as desired.
Serve hot with some crusty bread for dipping.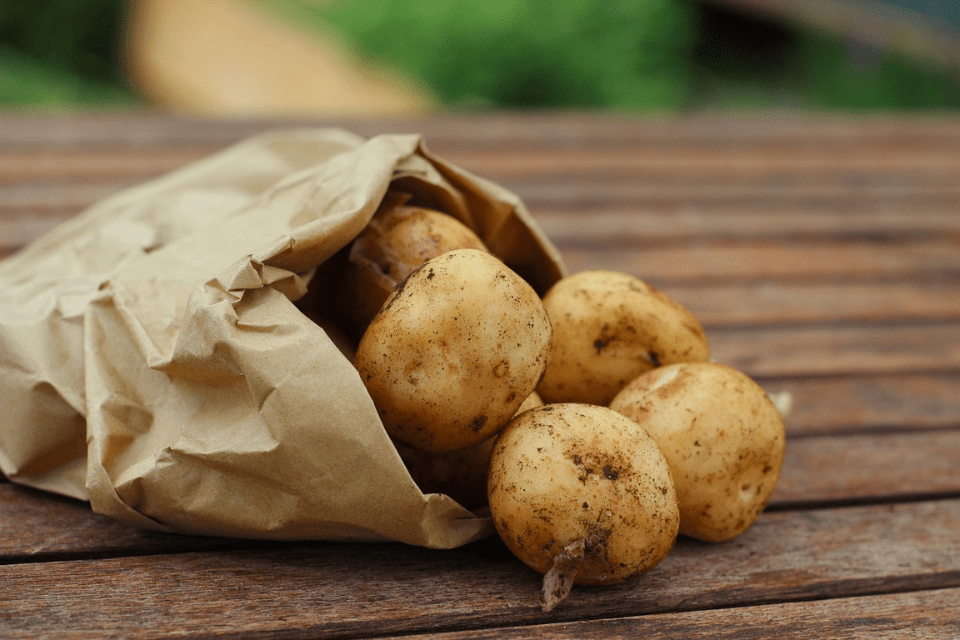 Can You Eat Tiny Potatoes?
Yes, you can eat tiny potatoes! In fact, they can be a delicious and healthy addition to your diet. Here's everything you need to know about tiny potatoes, including how to cook them and what benefits they offer.
Tiny potatoes are just as nutritious as their larger counterparts. They're an excellent source of vitamins and minerals, including potassium, vitamin C, and fiber. Plus, they contain antioxidants that can help protect against disease.
There are many different ways to enjoy tiny potatoes. You can roast them, boil them, or even eat them raw. Just be sure to wash them thoroughly first.
When it comes to cooking tiny potatoes, less is more. Overcooking them will make them mushy and unappetizing. Instead, aim for roasted or boiled potatoes that are tender but still have a bit of bite to them.
Not only are tiny potatoes delicious, but they're also good for you! So next time you're looking for a healthy side dish or snack option, reach for some tiny spuds instead of the usual suspects. Your taste buds (and your health) will thank you!
How Many Potatoes Per Plant?
When it comes to potato production, farmers typically harvest around 10-15 tubers per plant. However, there are a number of factors that can impact the number of potatoes per plant. For example, if the plants are grown in poor soil conditions, they may produce fewer potatoes.
Additionally, early or late planting can also result in lower yields. Interestingly, the size of the potato also has an effect on the number of tubers per plant. Smaller potatoes tend to produce more tubers than larger ones.
This is likely due to the fact that smaller potatoes have a higher surface area to volume ratio, which allows them to absorb more nutrients from the soil. So why do farmers still grow potatoes if they don't yield very many tubers per plant? The answer lies in their high demand.
Potatoes are a staple crop in many parts of the world and their popularity shows no signs of waning anytime soon. Consequently, farmers are able to sell their entire crop despite lower yields. While not every potato plant produces an abundance of tubers, farmers can still count on a good return on investment thanks to the high demand for this versatile vegetable.
Conclusion
If your potatoes are small, it could be due to a few different factors. First, the type of potato you're growing may naturally produce smaller tubers. Second, your soil might be lacking in nutrients, which can stunt the growth of your plants.
Finally, you may not be watering your plants enough or providing them with enough sunlight. Whatever the reason, there are a few easy ways to remedy the situation and get bigger potatoes next season!